JENNIFER M. SCHMIDT, M.Ed.
Intervention Specialist / Autism Consultant
Mrs. Jennifer M. Schmidt, M.Ed., is an Intervention Specialist (Special Educator) at Beavercreek High School in Beavercreek, Ohio. Jennifer has 23 years of teaching experience in both general and special education settings. She began working closely with students with autism while teaching in Chapel Hill, North Carolina, and was trained in the TEACCH method.At BHS, Jennifer and her now retired Speech & Language Pathologist colleague piloted their Communication Class in the fall of 2007, and the class continues to this day and utilizes the PEERspective Learning Approach; since then, neighboring school districts have adopted the same model with similar success. Mrs. Schmidt is a passionate educator who enjoys presenting at local and state conferences about Communication Class, autism, and training general education teachers to work with students with High Functioning Autism. She was recognized as Beavercreek City Schools Teacher of the Year in 2012, and in 2014 was awarded the Beavercreek Chamber of Commerce Educator of the Year recognition as a result of her innovative Communication Class. Mrs. Schmidt stays active teaching at workshops, through her role as a lead teacher on the Autism Coalition Team, at Beavercreek High School, and at a local college. She is passionate about helping other schools find success in teaching pragmatic language to students on the spectrum through Communication Class.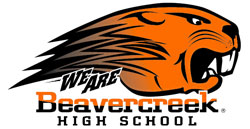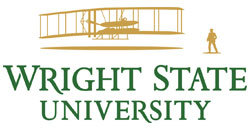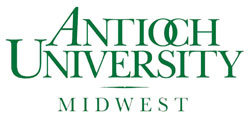 Professional Development/Speaking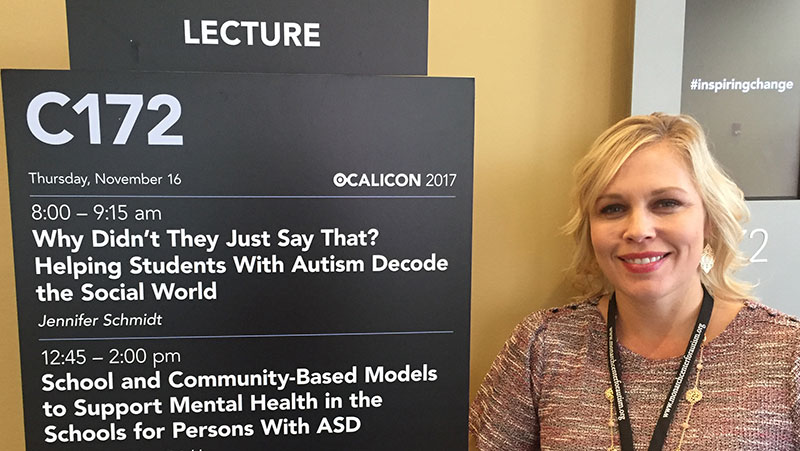 Jennifer has spoken nationally and internationally about a variety of special education topics. Evaluations of her presentations include comments about how she infuses practical advice from her 23 years of experience in the field. Her passion for the field of special education and her students is evident in all of her speaking engagements. When speaking, Jennifer focuses on strategies that are both evidence based and easy to implement through anecdotal stories and concrete examples. Below is a list of topics Jennifer has spoken about but other suggested topics are always encouraged.
Job specific social communication training (i.e. educators, health care providers, managers etc.)
PEERspective peer coach training
PEERspective: a new approach to teaching students with high functioning autism social skills
Evidence Based Practices for students with autism
Autism
Mild autism
Mild autism/college bound students
Peer mentoring and other EBP for students on the spectrum
Social skill intervention
Video modeling
Using film to teach social skills to students with special needs.
Working with paraprofessionals
Working with parents, taking their perspective
Transition for students on the spectrum and students with special needs
Parenting a child with ADHD
Living with dyslexia
"Jen's audience engagement when presenting is truly amazing. She incorporates and discusses her personal experiences. Her authenticity makes for an exciting and relatable presentation."
"Jennifer Schmidt recently presented PEERspective to our OT's, PT's, and SLP's. The program offers a unique perspective for learning a variety of personal and life skills for students with autism and their peer mentors. Jennifer's passion for the project and her energy in supporting the students was unmistakable. Her presentation was upbeat and informative for serving all ages/grades. Her use of personal experience and feedback from the students made the presentation real and heartwarming. The participants reported that it was the most useful workshop attended this year!"
References available upon request.
"My autism isn't a disease, it's a gift."
– Joseph
For far too long, we have looked at exceptionalities, such as autism, as a problem to be solved. When Joseph proudly announced that he was beginning to see his autism as a gift, I knew that the paradigm had shifted. Do people on the spectrum have to overcome challenges to find success in life? Sure, but don't we all? It's time we start shifting our thinking towards a new approach to intentionally teach these skills, and PEERspective allows us to do that.
The above is an excerpt from the widely popular book "Why Didn't They Just Say That?" by Jennifer M. Schmidt, M.Ed.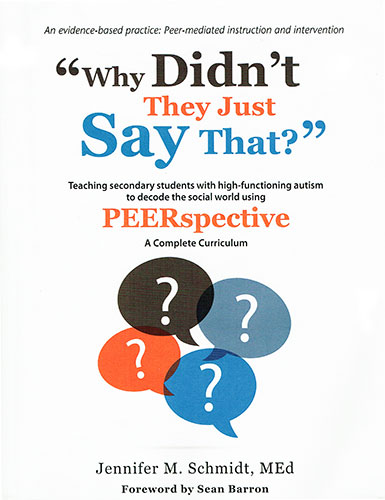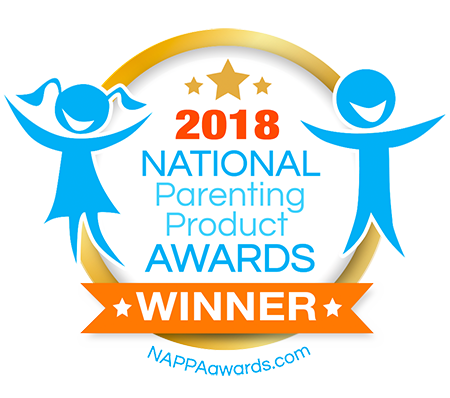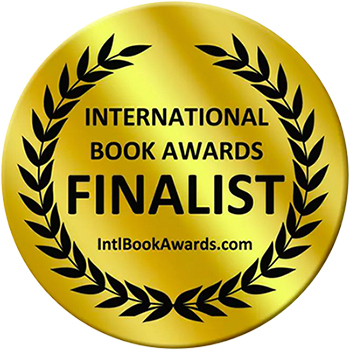 Using Video Modeling to Teach Social Skills
Ted Talk
Watch as some of Jen's Communication Class students discuss their experiences in living with autism.
Autism Live (talk show)
Watch an interview with Jen Schmidt as she discusses her book "Why Didn't They Just Say That?".
PEERspective Learning Approach Informational Video
Follow the journey of Jennifer M. Schmidt, M. ED. as she tells the story of how her dream became a reality.
Services
Public Speaking
Jen is available for public speaking engagement. She is an experienced presenter at national and international conferences. Contact her if you are interested in inviting her to speak at your next event.
Consulting
Jen is available for consulting and assisting you with your school curriculum needs.
Professional Development
Jen is also available for professional development to help position your team for greater success.
"This curriculum has been created from a place of genuine respect, understanding, and sensitivity to the diverse strengths and needs of students with social communication challenges. Well organized, practical, entertaining, and insightful, this book comes 'ready to implement' and 'ready to change lives.'"
"I have not seen anything like Communication Class before, the amount of progress the students show from the beginning of year to the end is astounding. Through the structure of the program PEERspective), the students on the spectrum are consistently improving their social skills inside and outside of the classroom."
"Catherine's participation in Communication Class and in the SCC (Social Communication Club) has really helped her have a better time in school, do better in social situations and she now has a group of friends that she hangs out with."
Please use this form to contact Jen